Diversified Crypto Portfolio BOTS
3StagedMicro
A custom automated portfolio of up to 47 altcoins, under 200 BTC MarketCap and 3 Staged Higher Lows in 2021
More Portfolios
With our trend trading portfolio balancing, crypto projects grouped by industry can provide better than market average returns.
---
Automated Diversified Crypto Portfolio Trading Service for Binance.
This basic Zignaly Tutorial explains our new Signal Provider Services and how you can subscribe.
Learn how the automated version of the Crypto SmartWatch can help save you hours and hours at the charts.
Video Updated March 27/20
After you register on Zignaly
the first step is to connect your binance API Keys.
Copy and paste your Binance Account Key and your Secret Key.
(be sure to set up 2FA for extra security)
That's it. You are ready to connect any of the BOT services!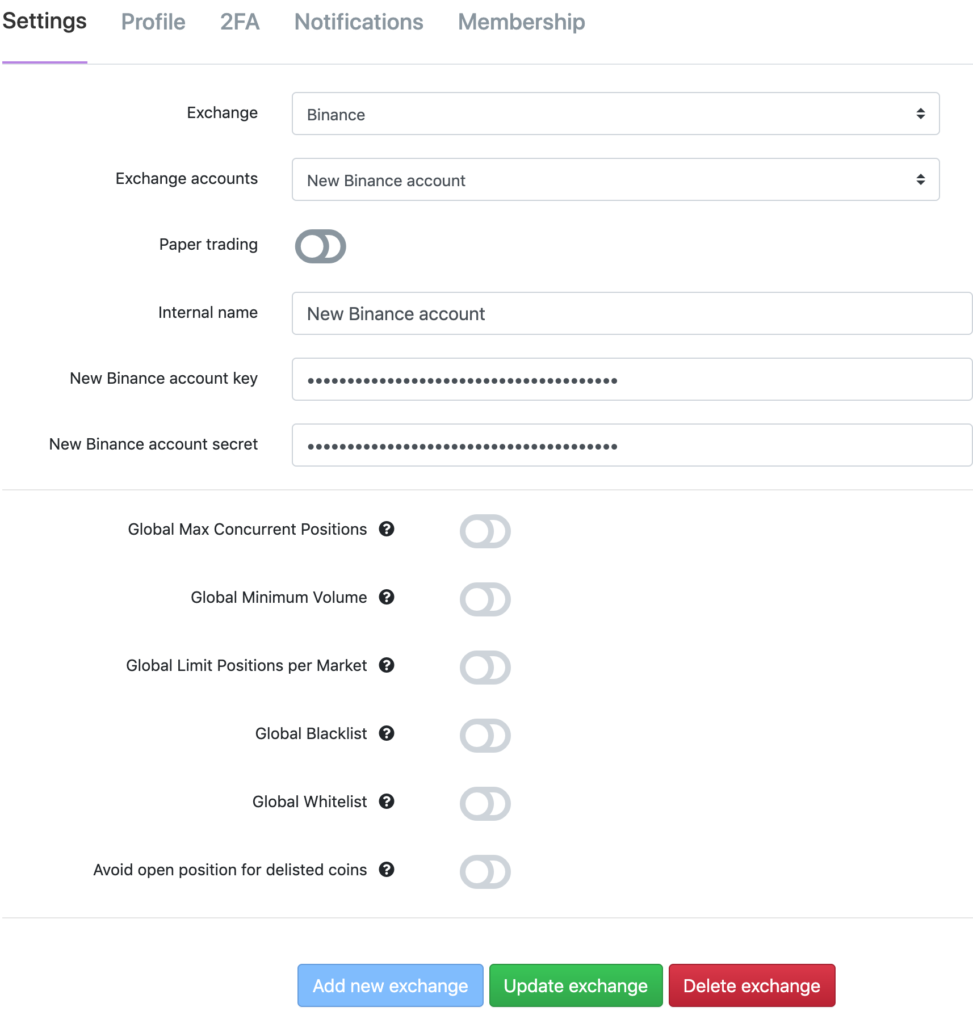 second step is to connect the providers or to follow the copy trader accounts you like.
After you connect the BOT, check all of these options, and click on the blue Connect button.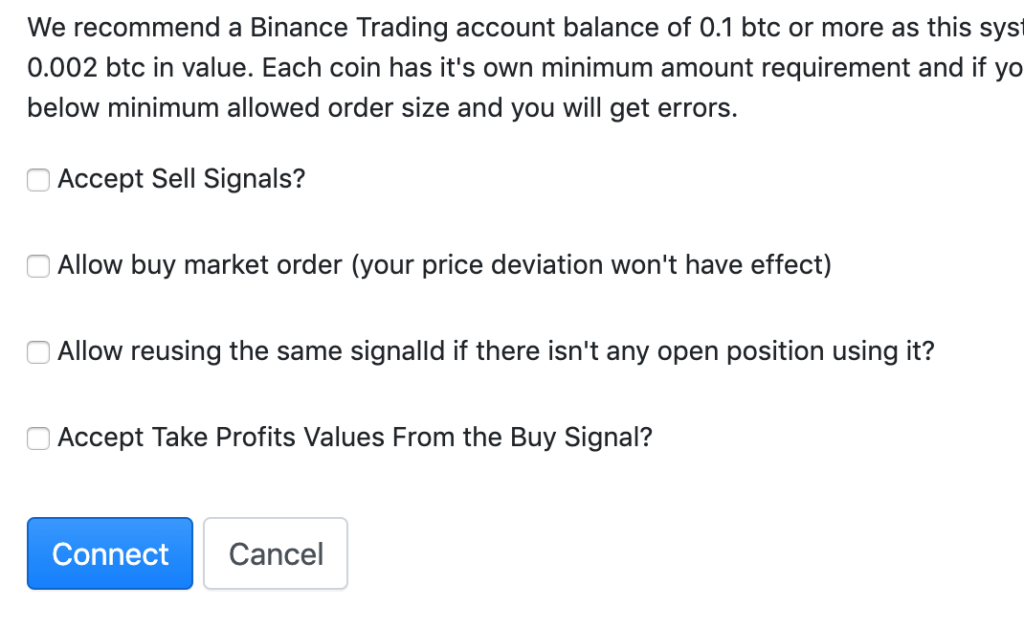 ---
What if it says 'Disconnected'?
The 'Diversified Portfolio BOTS' are part of the PRO ALERTS subscription, but must be manually updated.
If your shows 'DISCONNECTED' after you set it up, please contact us on DISCORD for support.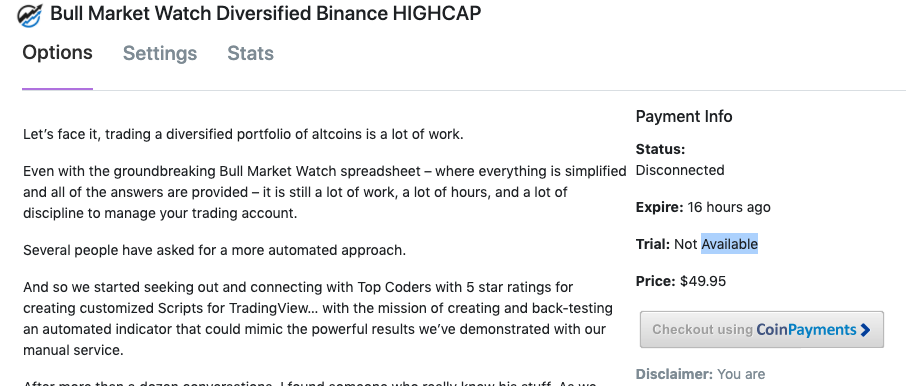 ---
How Much Should I Invest?

Never invest more than you can afford to lose.
This diversified strategy is intended to be very small positions across the breadth of markets that pass our trading signal.
In a good bull market, we can EXPECT to hold as many as 120 of 170 coins on Binance at any one time.
1/2 of 1% of your equity dedicated to this strategy for any one market, thus, an account with $10000 value in bitcoin could invest about $50 per market.
---
As the diversified portfolio is built out, we get trade trigger notifications like this:
Stay tuned as we soon include a Copy Trading Tutorial for Zignaly.


Questions and Answers about Zignaly
Education is our main focus! The better you understand the details of your plan, the better you will trade!
QUESTION: Is there a way to tell on my binance to use like 50% of my btc for first one and 25% btc for second one?
Will we be able to manually overwrite those trades and still run the script?
I appreciate questions! Please ask in our Discord Chat and I'll update this post to include all the Q and A here!
ANSWER: Yes! Zignaly still leaves you in complete control of the trade. You have options to set up your position size to be allocated to each signal. Each of the Diversified Portfolios manages more than 50 Binance markets, and you can select your position size.
---
QUESTION: Will the bot activate if a market has already passed the entry price?
ANSWER: No. If you subscribe to the BOT and see profitable trades in the portfolio, the system will not add these. You will need to activate manually via the trading terminal, and, the system will not exit your manual trades on your behalf.
---
QUESTION: Will the system automatically work when new pairs come on line?
ANSWER: Yes. When I code new trading pairs, they are coded to signal this portfolio. No further settings need be changed as a signal subscriber.
---
QUESTION: I see there's new hold in the Bull Market Watch Spreadsheet, but there no trigger in Zignaly. How can i find out its active?
ANSWER: The two approaches are similar, but they are not the same. On average, over a year – they should be very close, but specific entries and exits will not be identical. The Crypto SmartWatch Spreadsheet color coding includes human-review of the 1-2-3 bottom in addition to the EMA cross, while the BOT is more centered on activation by the EMA crosses that approximate what we expect from a completed 1-2-3.
---


NOTE: signals are generated from the ALT/BTC chart and assume you are trading between BTC and ALTCOIN for all trades.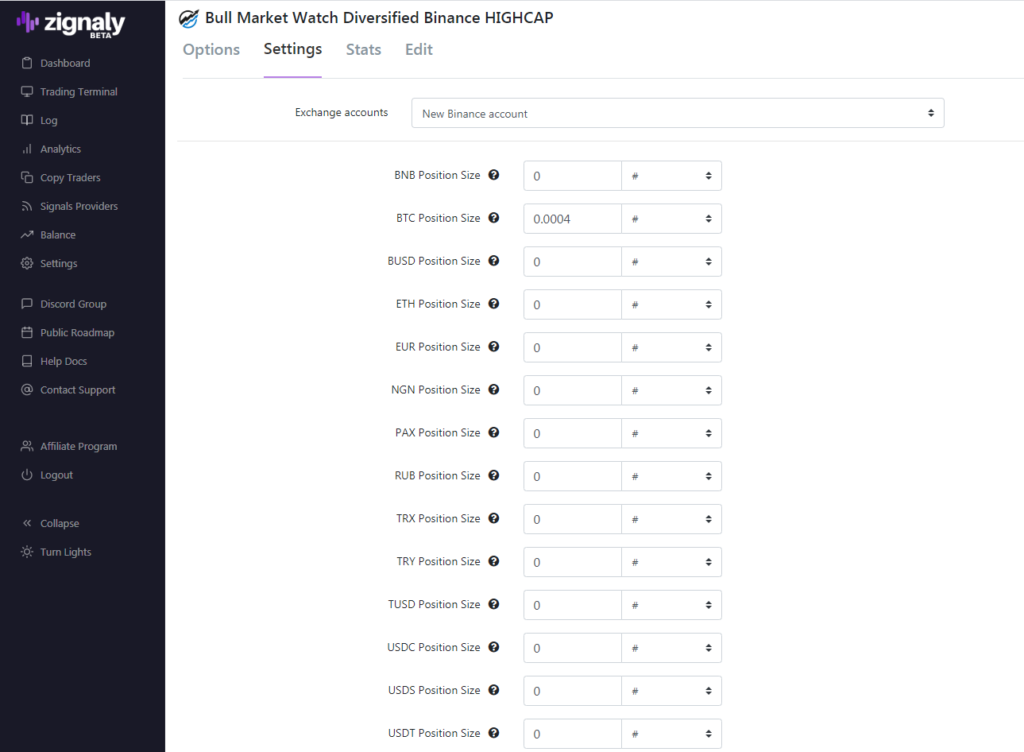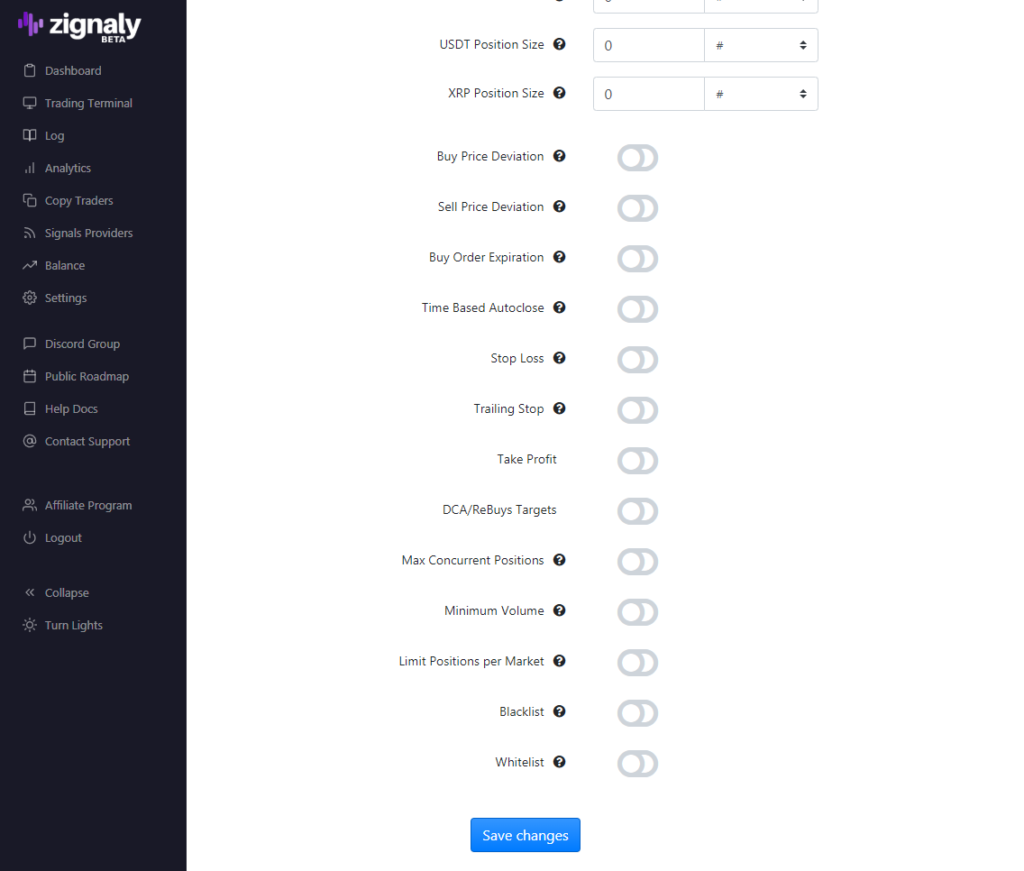 Zignaly Dashboard shows you all the coins you are trading from all the accounts you are following.

When you click on the EDIT GEAR in the Dashboard, you are taken to the chart and live trade control panel where you can customize your override on all trade details!

Feel more comfortable adding in a stop loss? Here are your options!!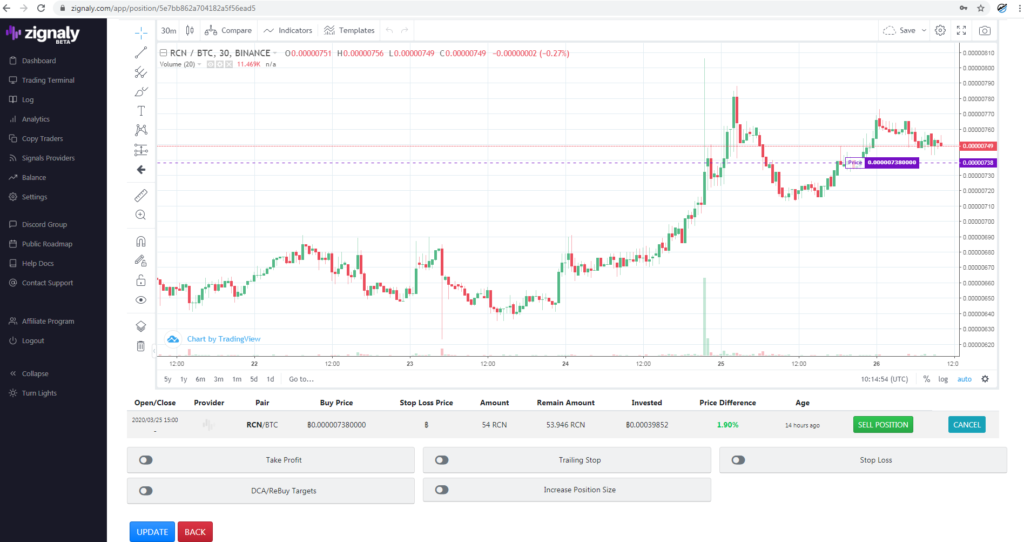 Detailed Stats for each provider are included.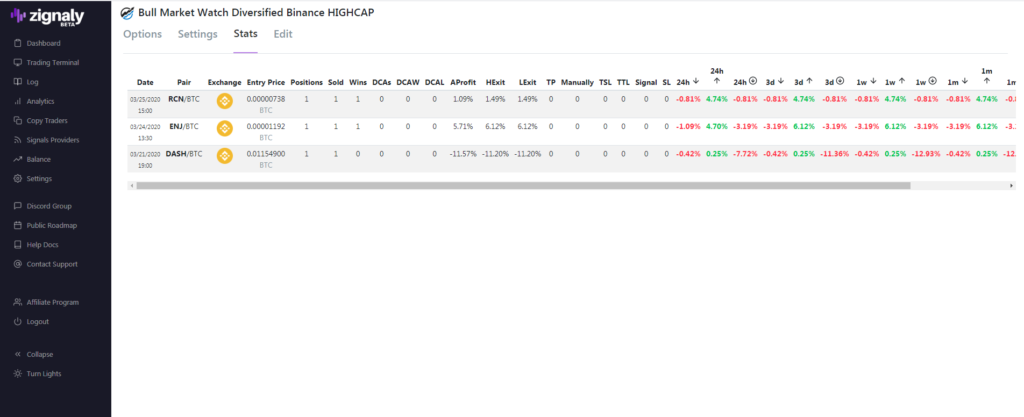 ---
The automated feature above, is intended for experienced traders who understand the overall system, and who are managing 0.5 bitcoin or more.

If you are new to trading and you want to LEARN this overall system, I recommend you start with our free webinar and study guide. That will give you MY CORE APPROACH, and you can practice by following the free youtube and free discord community.
Once you start to feel comfortable – the next step in transforming your approach, is to build the personal daily habits that successful traders share. This is when the Crypto SmartWatch Spreadsheet subscription can help you build the correct daily habits – and PRUNE AWAY the hours of chart watching.
---
The POWER Of The Crypto SmartWatch
Daily review and manual grading of nearly 200 markets!
Front panel summary with your inside look into the current market.
Trade Manager
Summary eMail saves time daily.
Filtered lists focus market allocation strategies.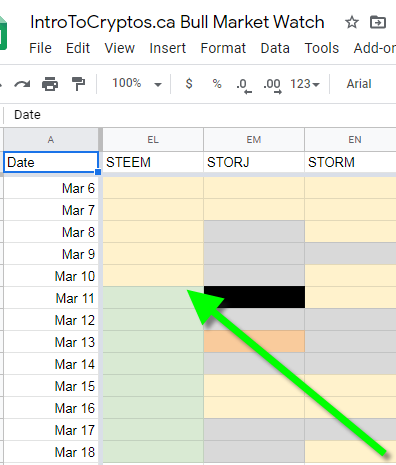 Click on the green button to learn more about the Crypto SmartWatch Spreadsheet. Ideal for new traders and recommended for those who are managing less than $5000 in crypto assets.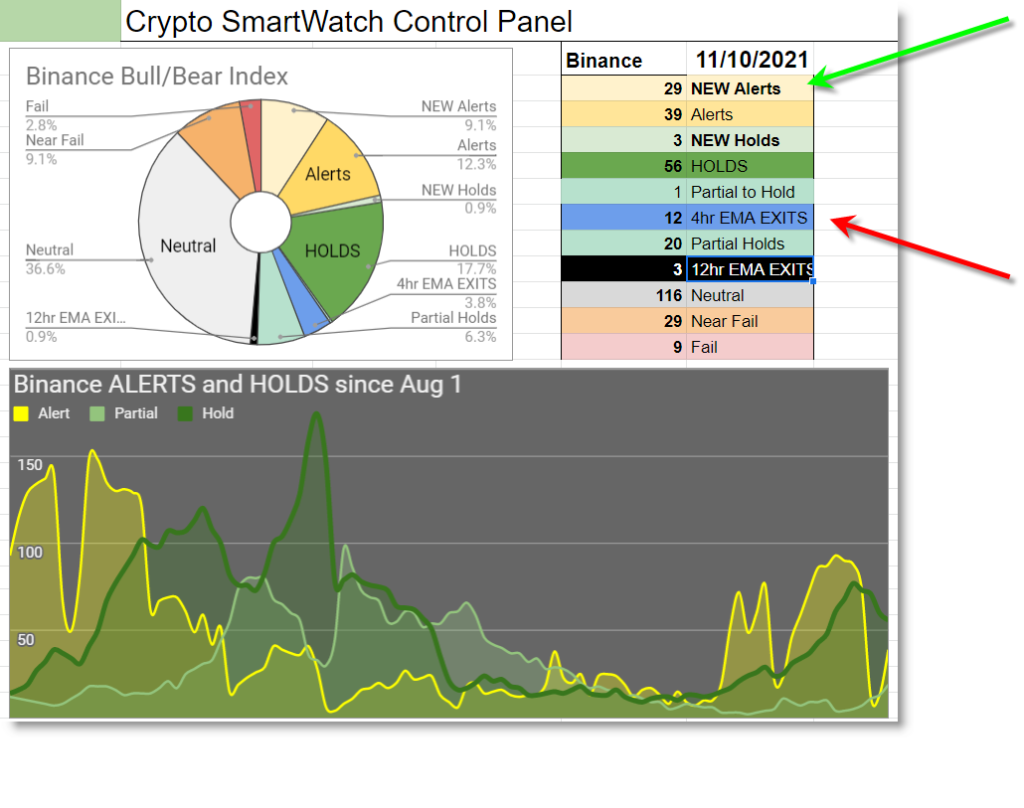 Daily Executive eMail Summary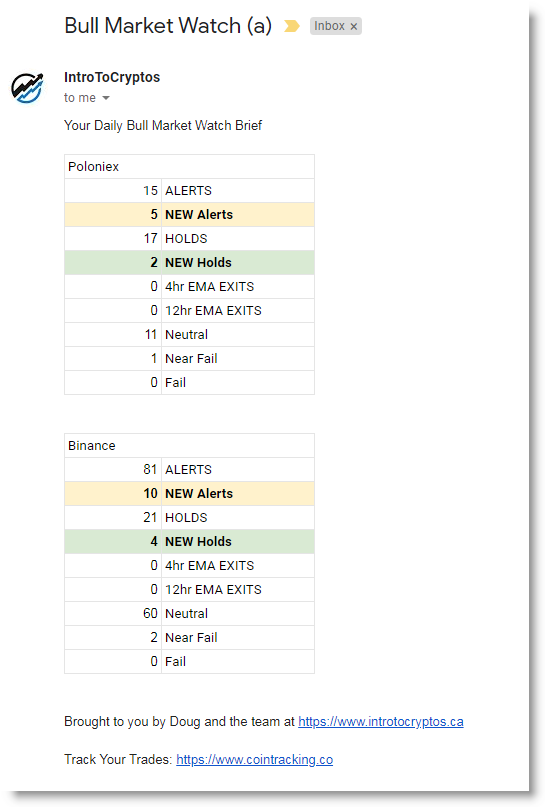 ---
Click on the green button to learn more about the Crypto SmartWatch Spreadsheet.

Ideal for new traders and recommended for those who are managing less than $5000 in crypto assets.